Altrivia is a chemistry quiz game with six different categories designed for one to six players. To become an Alchemist you have to answer correctly one question of each category. The level of the questions is random, so both easy and difficult questions may appear.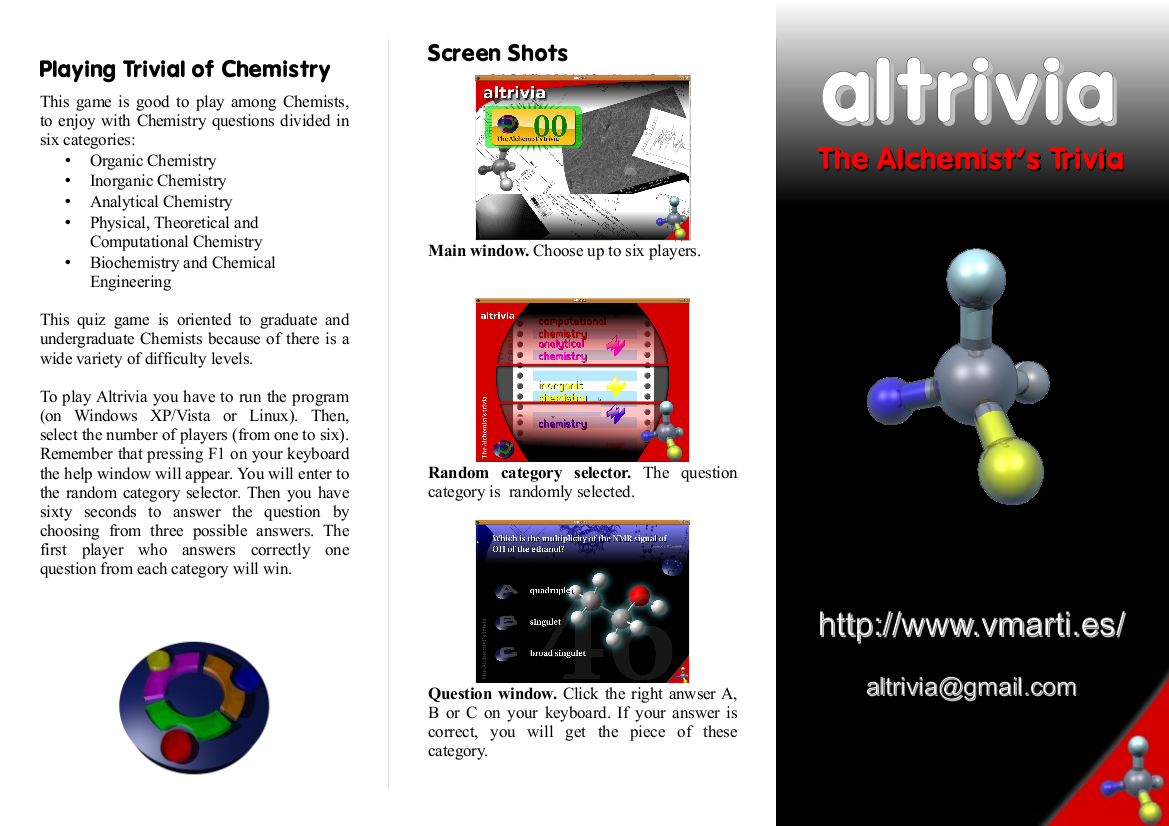 The license of the game is the GNU GENERAL PUBLIC LICENSE , Version 3, 29 June 2007. The game Trivial of Chemistry is based on the freevial game (https://launchpad.net/freevial).

You can contribute to develop the program, or just play and enjoy it. If you find a bug or an incorrect question, please feel free to email us ( altrivia@gmail.com )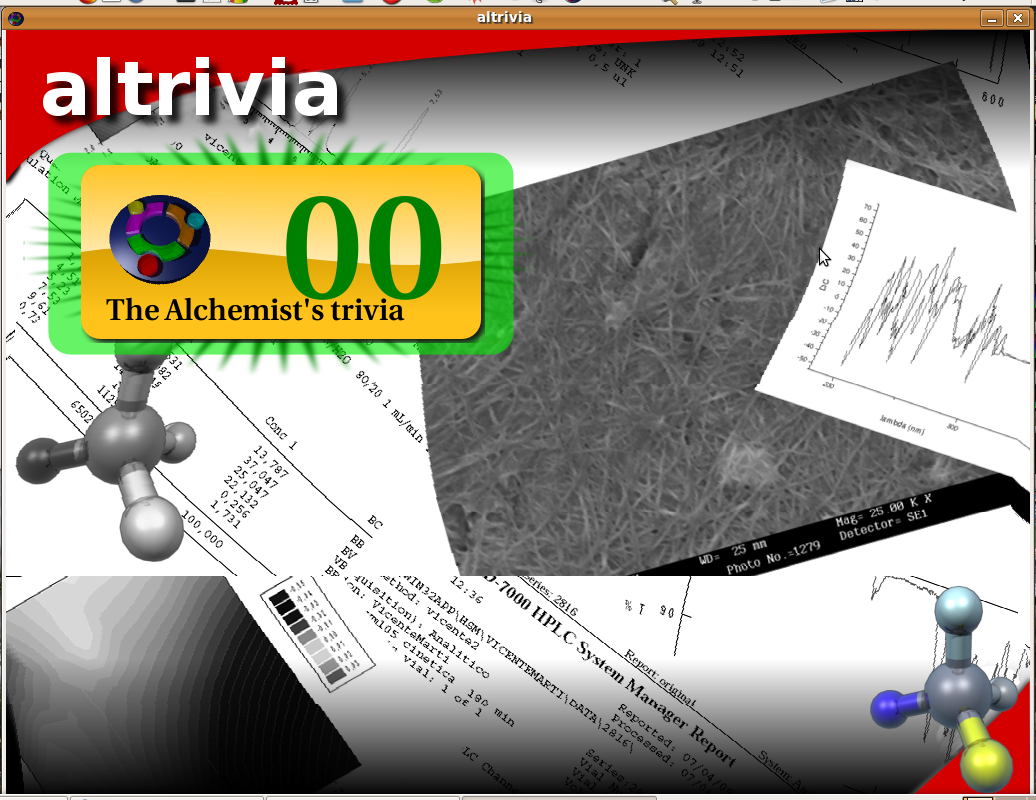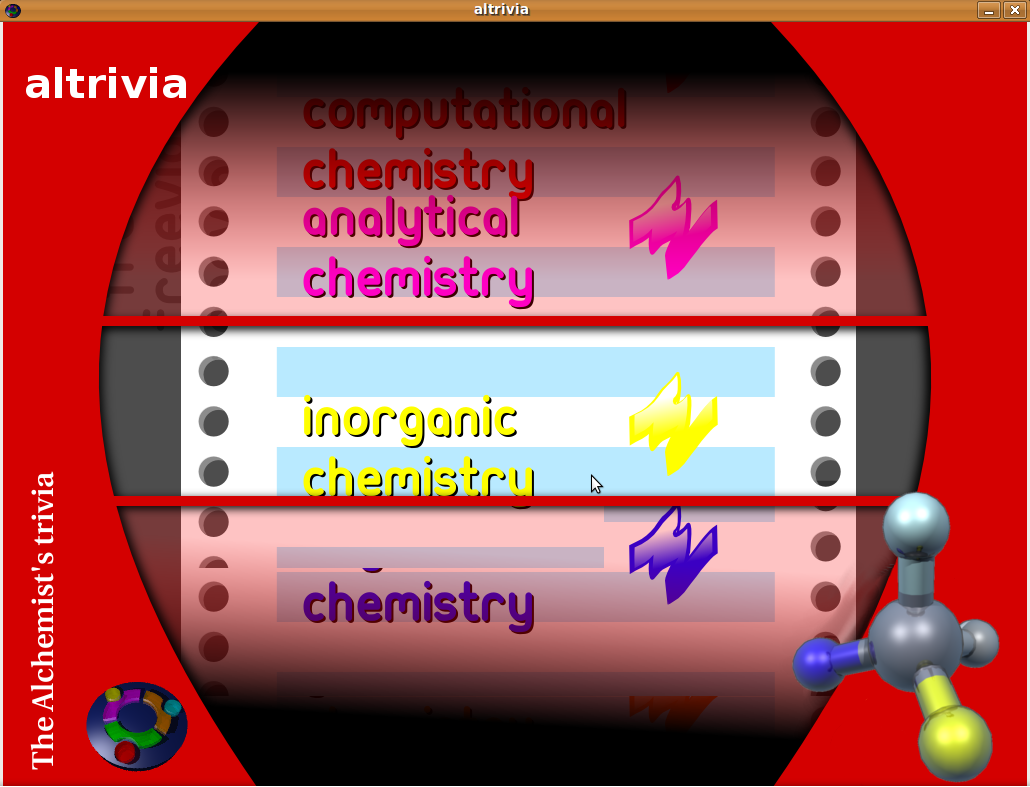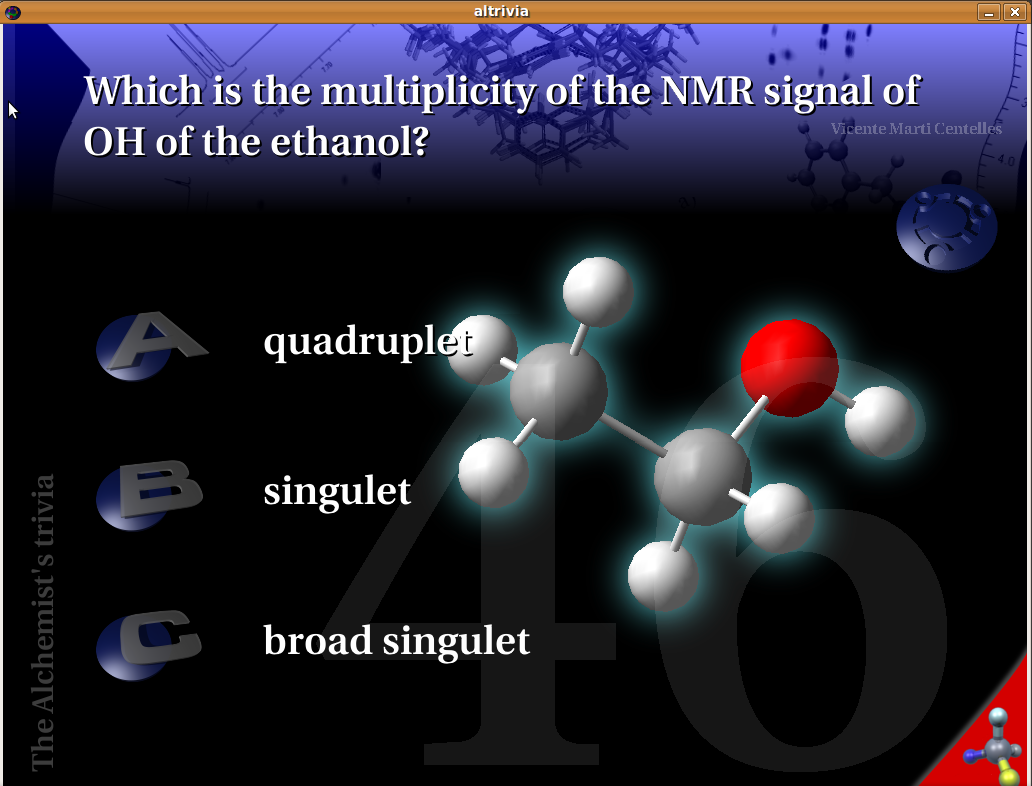 Download and Installation
The program can be downloaded for free of charge (GNU GENERAL PUBLIC LICENSE) from http://altrivia.uji.es/
The program runs on Windows XP/Vista and in any Linux distribution. In the Alchimia web page you will find two links to download the ins
taler for Windows XP/Vista and the source code and installer for Linux.

Download Altrivia installer for Windows XP/Vista v 2.0 (~45MB)
To install the program in Windows XP/Vista, download the Windows installer and follow the instructions. An icon will be created on the desktop. To run Altrivia, double click on this icon and select the language (es: Spanish, en: English) and 1 to full screen or 0 to normal window). By clicking F1 in the game the help window will appear.

Download source code and installer for Linux of Altrivia v 2.0 (~45MB)
To install the program in Linux dowload the Linux installer. Decompress this file and run with root permissions: ./install.sh. To start Alchimia run in the terminal freevial --lang es –fullscreen. Then, choose the language (es: Spanish, en: English) in the –lang option. Click F1 to start the help window. You will need to install python-lxml , python-pygame and python-numpy. E.g. in Ubuntu, run in the terminal:
sudo apt-get install python-lxml
sudo apt-get install python-pygame
sudo apt-get install python-numpy
Marta Enciso Carrasco and Vicente Martí Centelles, creators of Altrivia - The Alchemist's Trivia

Altrivia - The Alchemist's Trivia

http://altrivia.uji.es